This net zero energy residence is part of a 60-home net zero energy solar-powered planned community in the small city of Selah in Central Washington State. The 16-acre Selah Vista development requires all homes to be 100 percent solar powered in an area that enjoys more than 300 days of full sunshine per year. The power at Selah Vista is generated with arrays on each individual home and in two future community solar fields. It is net metered and fed directly into the power grid with homeowners credited for the solar power produced by their systems - and therefore no power bills. In 2018, this home won a prestigious national U.S. Department of Energy's Housing Innovation Award. The community is a mix of spec and custom homes, with additional requirements that each home in Selah Vista be durably built to withstand 100 years-plus and exceed 2030 state building codes. These homes are also designed for occupant health, using basic, non-toxic materials and finishes, as well as a clean air ventilation system.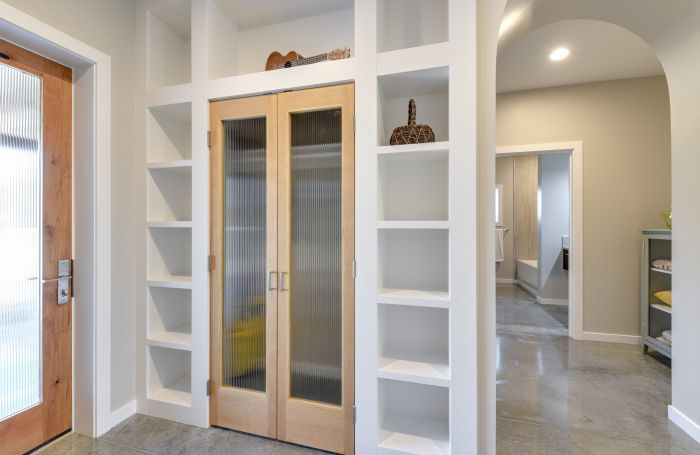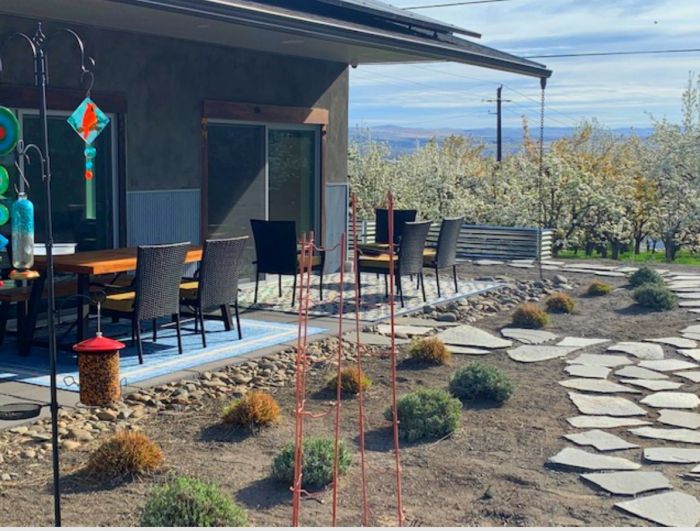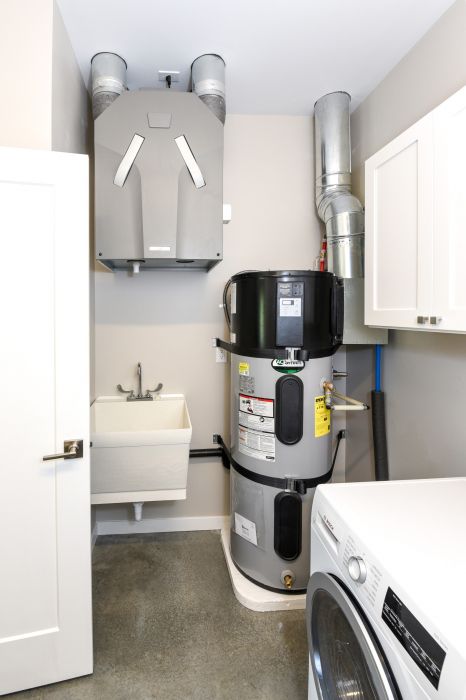 Exterior walls consist of two 24-inch-on-center 2"X4" framed walls set next to each other to form an 11-inch wall cavity, sheathed with half-inch plywood. Mineral wool batts provide R-38. The home is wrapped with a smart vapor-open house membrane and sealed with sturdy air-sealing tape to stop drafts and water while allowing vapor through. A blower door test resulted in 0.3 air changes per hour at 50 Pascals (Passive House Standard is 0.6 ACH50). The home achieved a Resnet HERS Index rating of -12, meaning it produces 12 percent more energy than it consumes.
The concrete slab sits on a five-inch-thick layer of foil-faced EPS foam that is sealed with durable tape to form an air, moisture, radon and thermal barrier beneath the slab. The slab is surrounded by an ICF foundation.
Each home in Selah Vista will feature an airtight design, triple pane windows, extra thick walls, sealed building materials and an energy recovery ventilator (ERV) system that combine to eliminate nearly all of the toxins that are known to contribute to common allergies.
Builder/developer Steve Weise of Leading Force believes in isolating the many allergens that come from outside to create a healthier living environment for people inside their homes. The ERV system alerts residents to the intrusion of outside pollutants and allows two volumes of air to be exchanged per hour, compared with five volumes of air in a standard home. Plus, the heat exchanger helps cool the interior.
Every home in the community will be wired for technical devices including audio and visual, Internet and appliances. The Kirio and Control4 home technology systems that manage the home from one hub, with one application, are easily configurable as all wires terminate in a dedicated low voltage closet. Unobtrusive temperature and humidity sensors "learn" the occupant behaviors and react accordingly. Notifications are sent via a cell phone app, allowing the homeowner to communicate remotely with the system.
All homes at Selah Vista are engineered and constructed with Universal Design principles. They are ADA (Americans with Disabilities Act) compliant and designed for aging-in-place. Features include wider front doorways; no transitions between the garage and house or between rooms; spacious, curbless master bath showers for wheelchair access if needed; and wide interior doorways.
Design details include energy-efficient stainless-steel appliances such as an induction stove, quartz solid-surface countertops, polished poured-concrete floors, and windows that take advantage of the views in the higher hills of Selah. Exterior materials are low-maintenance such as stucco, wood, stone, cement board siding, and corrugated metal.
Approximately two acres are set aside for a commons area that is being developed into a public park for residents. Because the climate in Selah is dry - with only 12 inches of precipitation annually - resilient, native landscapes that will thrive in drought conditions have been selected such as native lodge pole pines, mesquite trees, edible hedges featuring native shrubs, and native grasses. A solar energy-generating pavilion will complement community garden plots.
Standard Features for Every Selah Vista Home
Air quality systems for the home designed to exceed the EPA Indoor airPLUS Standard (health and comfort).

Energy efficient design to meet the EPA Energy Star Standard (energy savings and comfort).

Solar power system for the home designed to exceed the U.S. Department of Energy's Zero Energy Ready Home Standard (energy savings; minimal energy cost).

Smart home technology for the home allows for the monitoring and control of the home's systems (efficiency, safety and convenience).

Constructed with materials designed for 100-year sustainability (durability and low maintenance).

40-year or better composition roofs.

Burnished, easy to maintain concrete flooring.

Low maintenance materials mean that there is no painting, and cleaning is easy.
The Community
A 16-acre Planned Neighborhood Development under the City of Selah's Planned Development Ordinance.

Schools and downtown located ½ to 1 mile from the project.

Public transit bus extends to about ½-mile away.

Almost two acres of community space, including wheelchair accessible areas (the majority being the central greenspace Commons).

Community solar fields augment power, ensuring entire development is net zero into the future.

CCR's outline community structure, architecture, use of common areas and were designed to protect high quality homes and vision for the community.

A homeowner's association (HOA) will govern management of the common areas water and services, maintenance of front yards, open space and common areas, irrigation water, and two community solar fields.
Health and Comfort
Energy recovery ventilator: ventilation system with Merv 21 pre-filter that filters stale air and replaces with fresh air 24/7. The filters remove more than 99 percent of airborne particles .3 microns and larger.

Limited VOC's (volatile organic compounds) in all building products. Whenever possible, building materials selected are vetted as non-toxic. VOC-free MDF quality interior doors.

No combustion appliances: induction stove/convection oven (no gas fumes and accurate control).

Burnished concrete floors: easy to clean and do not trap particulates the way carpet does (and scored to prevent cracking).

Insulated floors: remain cool even in hot weather. Floor temperature is in line with air temperature.

Noise mitigation: Mineral wool sound batts in wall stud cavities for sound deadening around bedrooms, bathrooms and utility room.

EMF mitigation: Bedrooms wired to reduce EMF (electromagnetic field) exposure.

Green products: reclaimed wood trim and quartz countertops.

Universal Design concepts: wider doorways/hallways. Master bathroom has curbless shower, roll-under sink, and walls have been block-reinforced for future grab bar installation.
Energy
Homes are designed to meet proposed 2030 Washington Energy Code - a 70 percent net annual reduction in building energy consumption as measured against conventional homes from 2009 code.

No electric bills; net zero electric.

Passive solar design: ample windows provide daylighting and views; large overhangs on the south-facing patio reduce solar heat gain. Concrete floors provide thermal mass to retain heat and cool air temperature.

Double wall construction allows more interior space for insulation, to maintain interior temperature and provide soundproofing.

ICF block (or better) foundation/insulated with 5-inch condensed foam under concrete slab provides comfort and maintains interior temperature.

Triple pane windows (U.19 or better).

Insulated to R-38 walls, R-52 ceiling, R-20 foundation.

Solar ready homes that are grid tied to Pacific Power, produce all the energy needed to operate homes and provide tax deductions. (Grid is tied to ensure all homes have ample electricity even during periods when panels aren't producing; storage battery technology improvements may eventually be employed to address this issue.) The solar system eventually pays for itself.

Heated with ductless or ducted-ductless mini-split systems to provide zonal climate control.

Energy Star appliances for energy efficiency.

LED lighting that is more energy efficient than other lighting types.

Plugs in soffits with interior switches.

Prewired for low voltage systems.

Wi-Fi may be used for remote monitoring and control. The home system can be remotely monitored and controlled via the Internet using a SmartPhone or Tablet.

Smart home control systems are capable of controlling lighting, HVAC system, garage door and monitoring homes for leaks, VOC contaminants, etc.
Water
Low flow toilets, faucets etc. throughout the home; all are high quality Kohler. Water usage should be less than 50 percent of a normal home.

Water softener/filtration system: whole-house water softening/filtration system; a optional drinking water filtration system.

Drought-tolerant landscaping requires less maintenance. Drought-tolerant landscaping in common areas ("tracts," trails, stormwater bioswales, etc.) maintained by the HOA.
Home Certifications
Designed to Meet or exceed EPA Energy Star standards. Designed to Meet or exceed EPA Indoor airPLUS standards. Designed to Meet EPA Zero Energy Home standards.
Custom homes also conform to the green built standards
Air quality systems for the home designed to exceed the EPA Air Plus Standard

Solar Power system for the home designed to exceed the EPA Net Zero Standard

Smart Home technology such as the Kirio Smart Home monitoring system

Constructed with high quality materials designed for 100-year sustainability
Documents
Selah Vista DOE Case Study (3,444 kb)
Implementing DoD Net Zero Energy Article APRIL 2011 (1,475 kb)
Resources